April 19, 2012 – Consistently during coin conventions people ask us who ever reads our journal emphasising that the internet is not a real community but kind of a parallel universum. Of course we do not aim at substituting the real world – on the contrary! (By the way, that's why we publish the dates of coin conventions …) But sometimes you perceive how much modern media brings people together and how they may even help – so we experienced only recently.
The temple of Aphrodite before its cleaning.
A short time ago we reported in CoinsWeekly on an intriguing temple of Aphrodite in the heart of Thessaloniki, a temple that, alas!, was sinking into rubbish because the responsible Archaeological Service did not do anything to preserve and conserve it. A citizen initiative had some plans but they had to deal with many adverse directives.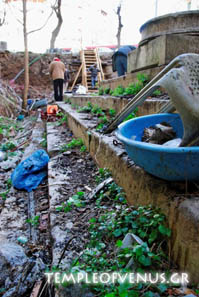 There was much to do ...
Now one of these activists has informed us that our article caused quite a stir in the Greek bureaus of the Antiquity administration causing facts at last. The competent department gave those engaged persons permission to cleanse all the waste and rubbish of the monument in their immediate neighbourhood.
... because under all the boughs, rubbish and waste you could hardly see the temple any more.
And there was no need to tell the men and women twice, they snapped the chance!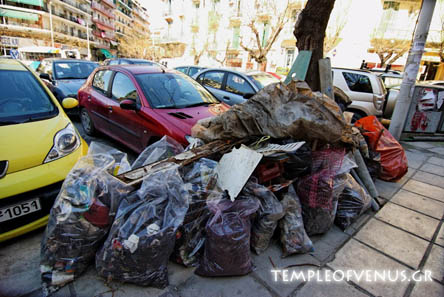 At the end not only a lot of plastic bags were brimmed, …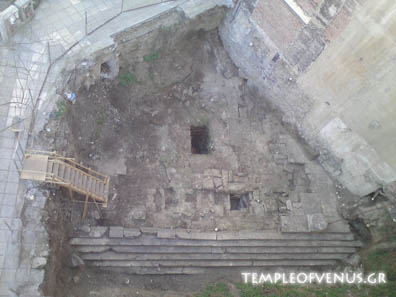 … but the very temple was visible again.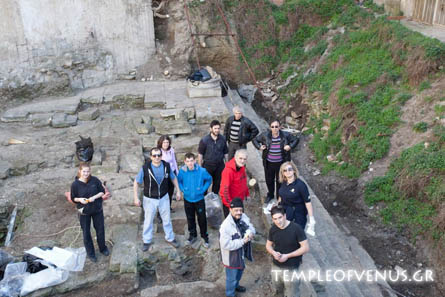 These people engaged actively in the interest of the preservation of cultural property in their neighborhood. Hopefully the Archaeological Service will follow their good example contributing to the preservation of that monument which can tell us much and will certainly attract tourists if it was only conserved properly and made known.
However, we are glad that our article has caused more than one could expect – considering internet publications as uncoupled from the "real" world. And, naturally, we will continue to support activities of this kind in the future!
More pictures of this action and of the temple you can find on the website of these engaged people of Thessaloniki: here.
Here we reported recently on this topic.
Πηγή: http://www.coinsweekly.com/en/page/4?&;id=1157